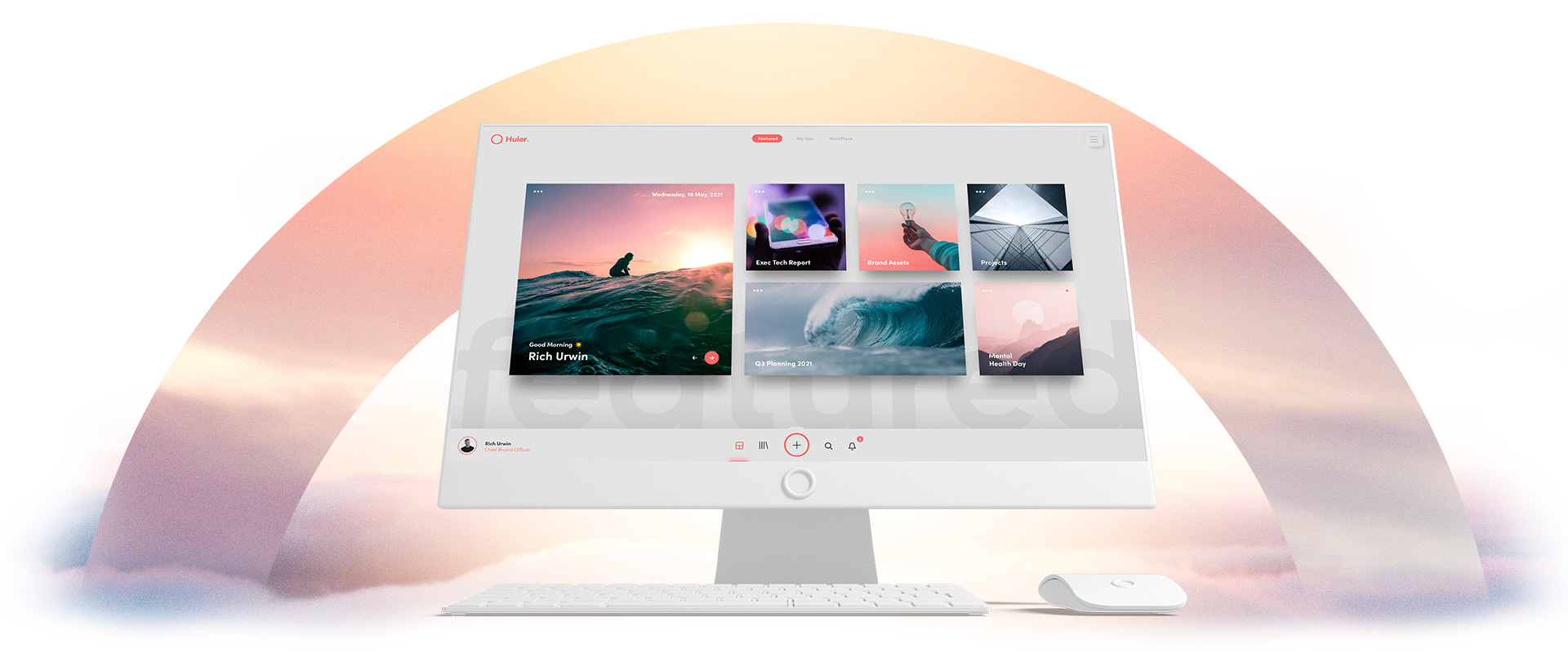 Meet Huler.
The user focused
digital workplace solution.
The future of work is going digital.
For companies who want to retain talent and stay productive, there's never been a better time to invest in digital workplace solutions that make the transition easier and less painful.
Want to be part of the revolution? Say hello to Huler!
Huler Hub is a feature-full digital workplace platform where employees come to work, play, communicate, collaborate and engage.
Unite all your content, people, tools, and comms in one single platform.
Employees use around 41 systems every single day! Switching between these tools and looking for information in a sea of systems isn't just time consuming, it's overwhelming.
The Huler Hub digital workplace solution is like an office - but online. It's a virtual space where all of the tools and applications your business needs are accessible in just three clicks. It's also the key to shaping a better employee experience and company culture for hybrid and distributed workforces.

Improve Employee Experience




Create a positive employee experience from Day One.
A digital workplace is a central, customisable space for employees to access everything they need to succeed.

Fuel Collaboration




Staying collaborative and creative in a hybrid workplace can be challenging.
A digital workplace brings employees and colleagues together, smashing down silos and encouraging teamwork.

Be Flexible




On a train, in a coffee shop, or at home in your sweats.
A digital workplace transcends the traditional 9-5. Give employees a tool they can use to achieve a better work-life balance without losing productivity.

Save Time



Wave goodbye to that sea of tabs you've been living in.
A digital workplace takes all the leg work out of collaborating, communicating, managing projects, referencing documents and accessing tools.

Grow & Profit



Start focusing on the things that really matter to your business.
A digital workplace frees up your employees time to do what they do best and helps shine a light on the tools and software that aren't providing a solid ROI.

Communicate Better



Kiss goodbye to dusty email inboxes and forgotten internal comms.
A digital workplace works with the communication tools your employees use everyday to facilitate better communication and supercharge efficiency.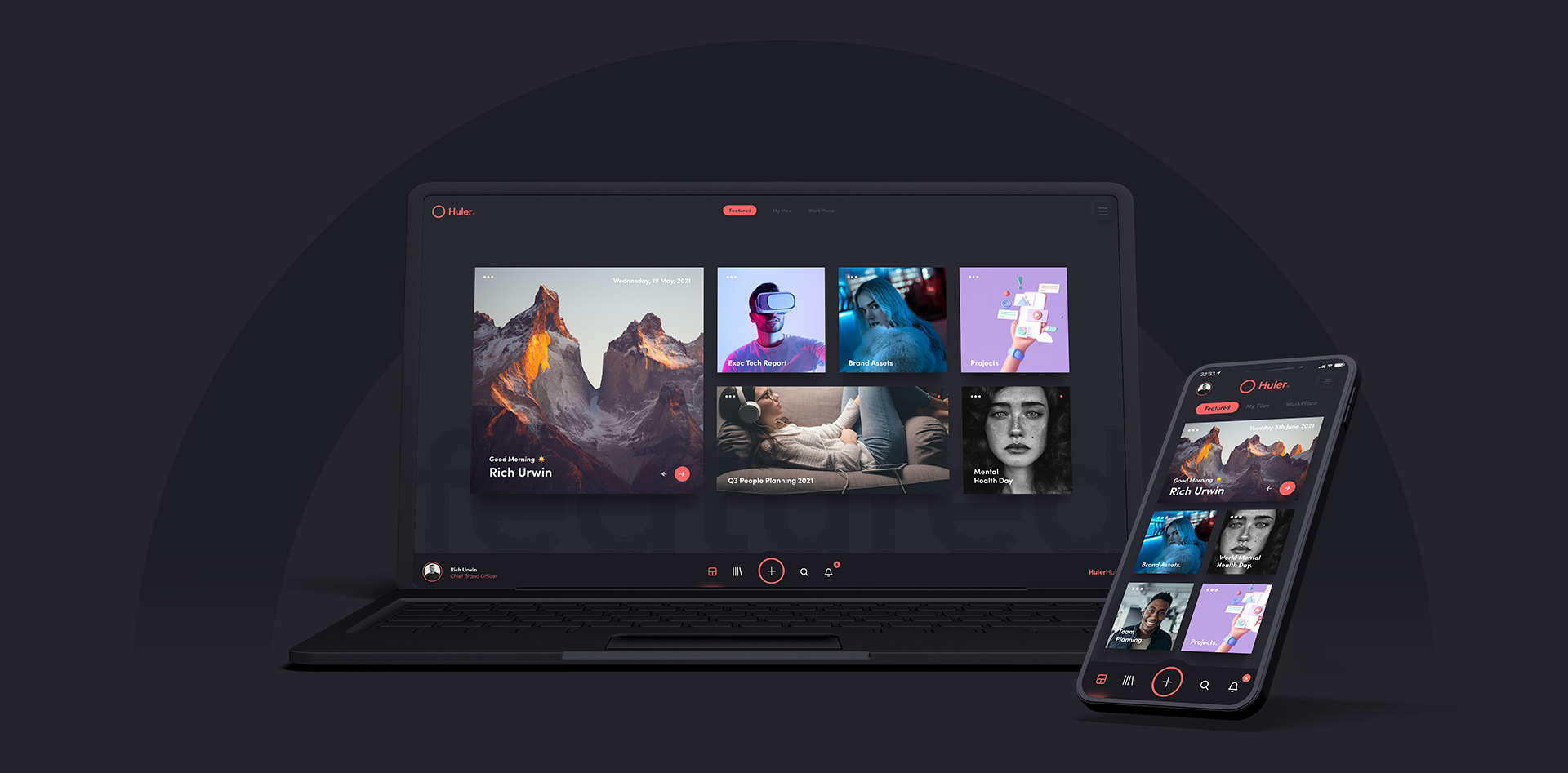 Connect your mobile workforce
Access information on the go

Not all employees are based in the office or at home. Frontline, deskless, and field workers spend some, or most of their time, away from the office. But that doesn't mean they should be disconnected from the rest of your workforce.
Huler Hub offers a fully-responsive mobile experience, providing information and resources on the go within a user-friendly, branded interface.

Everything you need in 3 clicks

Employees don't want to spend endless amounts of time looking for the information and files they need.
Huler's Dynamic Search presents users with relevant information based on their keywords. So, even if they don't know exactly what they're searching for, they can find it in seconds.

Customisation for days…

Buttoned up, one-size-fits all digital workplace solutions don't work. With Huler, employees are the architects of their own workflow.
In it, they can create links to all of their most-used software, essential content and favourite websites, then personalise each of them with different colours, images, even gifs! Oh, and forget about entering passwords constantly – with Single Sign On, one password rules them all.

Keep employees in the loop

Transparency and good communication is a top priority for employee engagement. Huler makes putting internal communications front and centre easy with powerful audience management features and the ability to roll-out dynamic, timely content.
Employees can also create and share their own library of personal collections, whether that be all-important reports, recipes or learning resources.

Fort Knox has nothing on us

Skimping on security isn't our thing. The Huler Hub digital workplace platform is developed according to the OWASP Top 10 framework and hosted on Amazon Web Services. This means that all of your data is securely encrypted, stored and backed-up to the highest industry standards.
We even pay accredited auditors to try and hack our systems, so we can stay at the forefront of security and protect our users.

Create brand champions


Employees are more productive, empowered and confident when they feel part of something bigger. Huler Hub provides a platform from which organisations can reshape and relaunch a corporate culture that resonates with employees.
From branding to internal comms, Huler Hub provides personalisable touchpoints for a better employee experience.
Nothing But ❤️ For Huler ⭕
Sites, tabs, sign-ins, APIs. Huler elegantly makes these background considerations.

The desktop to your digital world? You bet. Settle on Huler.
Perry Timms
CEO | PTHR
Huler is a remarkably innovative way to change employee experience.
It meets the needs of today's digital/remote working world.
You don't know you need it...but you do.
Laura Mazzullo
Owner | East Side Staffing
Huler is something you rarely see: workplace tech that is both incredibly useful AND very user friendly.
Matt Smith
Senior Director | Alight Solutions
Legacy systems become less of a headache when you have an easy way to integrate them and create a unified user experience.
Many have tried, Huler will succeed.
Michelle Hazelton
Managing Director | Anders Pink
I am seeing organisations focusing on their employees experience more than ever. Huler is in a great position to drive this forward and support organisations by delivering the infrastructure to support the overall employee experience, not just focusing on one element like an LXP or LMS. Looking forward to seeing how this one plays out!
Jonathon Fletcher
Group Head of Learning Operations | Capita
Book A Demo
Not ready to try just yet? No problem!
Simply fill out the form below to book a demo. One of the Huler Crew will reach out shortly.